I wanted to share my thoughts about crafting vs art. This came out of a discussion on a forum I follow. The discussion covered several topics. (1) Was there a difference between "just crafting" and

"feeling like a 'real' artist" (2) how to handle lack of creative impulse or wanting to do art but not knowing what to do (3) when stuck for ideas having the temptation to go to the art supply store and buy stuff in the hopes that it would result in creative ideas springing forth

These are my thoughts about the matter.

I think just the act of creating makes you an artist. There no such thing as "just a crafter". Art is, after all, very subjective. I believe that all forms of creation are art. But if the voice in your head is getting in the way of your art have some mindless art tasks that you can do like doodling or creating background pages. Making supplies like your own alcohol inks, transfers, or prepping paper for later use. These are things that need to be done so you'll have supplies on hand but they don't require you to feel that creative, must do art, impulse. Just play.

To overcome the want/need/buy impulse (in the hopes that it will spark creativity) see what you can salvage or recycle from everyday objects. I recently went through my mail and salvaged the following to file away for art projects: 3 stamps, 2 envelopes, 2 images from a furnitures store sales piece, a few words from the grocery store flyer, and a picture from an advertising postcard. Seeing and filing these things sometimes gives me ideas and helps me realize I don't need to spend money to make art. I can be creative with what is already around me. Of course shredding magazines is another great way to get some ideas, there are so many pictures and words to be cut out and tucked away.

And to address the final point, I believe that process of trying something new/different is part of the process of art. This past summer I was fortunate enough to see a museum exhibit on Degas, one of my favorite artists. In the exhibit were a number of his "studies," attempts to do something over and over in different ways. Playing with line, light, color and shape. I've shred two images above. These studies were beautiful and inspiring, but they were not necessarily the finished product.

What we see in the art history books or the museums is often just the last in a series of works. It does not accurately represent the creative process that resulted in it. Yet in my humble opinion those "studies" are still very much considered to be art. So again, just play, create, and allow the artist within you to shine through.
Powered by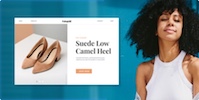 Create your own unique website with customizable templates.